October 10th, 2009
It's almost Saturday because it took me so long to compile all that I've fallen in love with this week.  I'm going to attempt to share with you the stuff that blew my mind, made me laugh and got me hard.  Yeah, you heard me.  I got a boner and I don't even have a penis.  Ghost boners!
Boner #1 – Madonna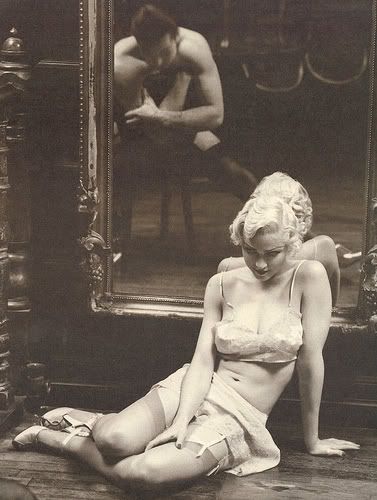 I'd like to give a big boner thank you to m'lady Agent Lover, for reminding me of how much I miss slutty Madonna.  Visit her post so you can feel the same way.  Be sure to click on the NSFW link so you can faint.
Boner #2 – Winter's Discontent
Winter's Discontent is a screenplay I read at work yesterday.  Written by Paul Fruchbom, the screenplay got major buzz when it was listed in The 2008 Black List – The Hottest Unproduced Screenplays of 2008. Apparently it will be produced and rumors are that Borat director Larry Charles will direct.  I've read a few of the scripts from that 2008 Black List, and this one was definitely a highlight.  I laughed out loud and almost cried from reading the story about Herb Winter chasing elderly tail and trying to get a blow job in a retirement home.  Another Black List script I really enjoyed was The Beaver by Kyle Killen, a truly quirky and dark comedy about a man who treats his depression with a beaver puppet.  If you're interested in reading some of the scripts from the Black List please click here.
Boner #3 – Nick Kroll
Nick Kroll should be on Saturday Night Live.  His characters are incredible, and he's a funny stand-up comic as well.  This week we got the follow-up to the hilarious Bobby Bottleservice vlog with this fully produced funny or die webisode:
Boner #4 – Viktor & Rolf
I got my mind blown by some fashion designers this week.   First with Viktor & Rolf, who took an axe to tulle.
Thank you to Fashion Forestry for first introducing me to the Dutch duo.
Boner #5 – Ali Wong
We lost funny girl Ali Wong to the Big Apple earlier this year, but that doesn't mean she doesn't come back to visit.   I was lucky enough to perform with her last night, where she broke out some new material about finding a FWB in NYC.  If you ever thought to yourself, "Damn, I really wish I could find a way to describe how ugly this man's genitalia is," then look no further and get your ass over to the Punch Line on October 13th to see her perform live.  If you can't wait, watch this funny vid with her and Chris Garcia:
And check out Ali's hidden talent:
Boner #6 – Pinball
Last Sunday I went to the Pacific Pinball Expo where over 400 pinball machines were on free play.  FREE PLAY!  It was heaven.  Best game I played there?  Well it's a toss-up between a 1976 game called Space Odyssey with a swinging target in the center of the playfield (I squealed every time I hit it), and the 1982 mind-blowing Orbitor 1.  Orbitor 1 is unlike any pinball game you've ever seen.  The playfield looks like you're on the surface of the moon, and the way it plays is no different.  The ball hovers and strays like there's no gravity, which will TRIP you out.  Watch this youtube clip and notice the way the ball moves AROUND the flippers:
Boner #7 – Alexander McQueen
The last, and biggest boner of all goes out to Alexander McQueen, whose spring 2010 collection I first saw via White Lightning and Tales of a Retro Modern Housewife.   I was in my Google Reader at work reading my blog subscriptions when lo and behold, these shoes, these amazing and bizarre fetish-tastic shoes looked back at me with their mechanical and snakeskin eyes and said, "Yeah, that's right. You're alive." And I said, "YES I AM! Thank you!"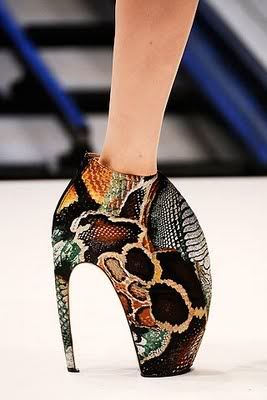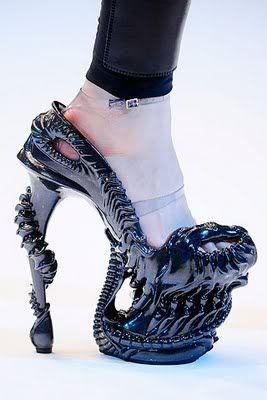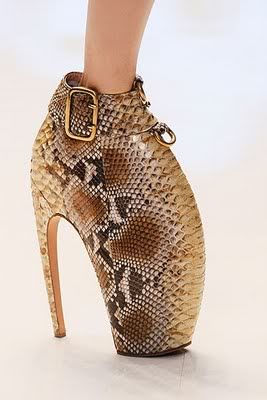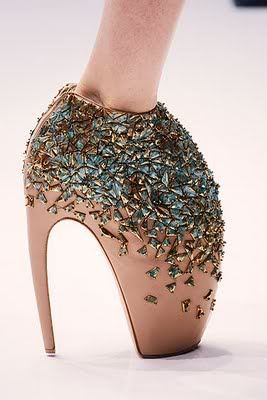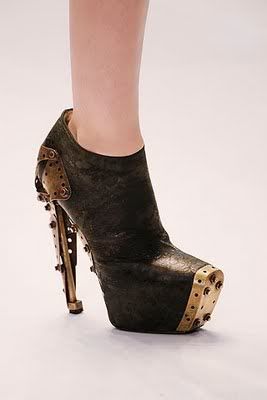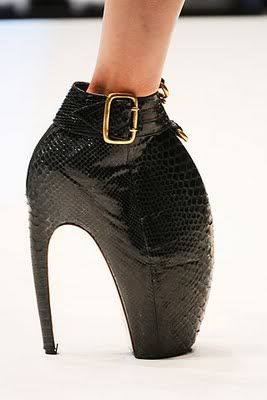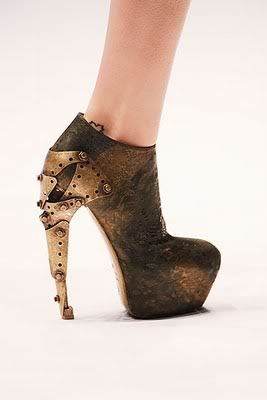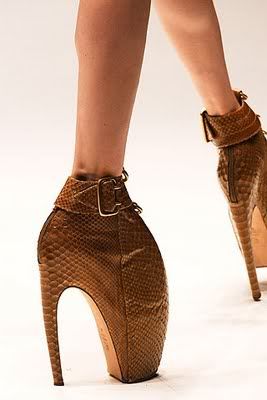 Wonder how people walk in those?  Watch a clip from the incredible fashion show:
Oh, and by the way, the rest of McQueen's designs are no less mind-blowing than the shoes the models miraculously walk in.
Well, that's it folks.  7 boners.  7 days.  That's a lot of love-falling, but it's been a while since I've done a proper Fall In Love Friday.  Til next Friday, til next boner… good night!