Saturday, March 19th, 2011
These words are being typed with great sadness. For I am grieving over the loss of this absolutely incredible 1930s blue feather capelet.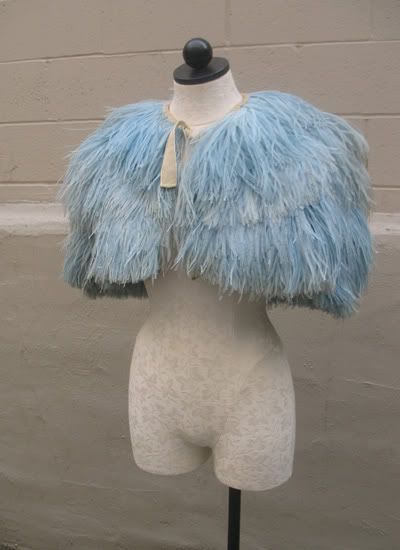 The loss being that it is not mine.  I first saw it posted on Sacramento boutique Crimson & Clover's blog.  I immediately obsessed and rightly so.  (I was also in love with the peach 30s dress, but since I didn't know its size, it was easy to not obsess over it.  The capelet however… that would fit!)  I called the shop daily asking how I could purchase and obtain it's majestic beauty.  After days of not hearing anything I even went to the store to hopefully get the obsession out of my system.  Maybe if I could try it on I'd be able to see it wasn't right for me, I could let it go!  But I couldn't try it on.   The piece wasn't ready to be sold, they were saving it to sell at the Vintage Expo which is this weekend in San Francisco.  The Expo whose doors opened hours ago.  I envision the capelet being picked up immediately.  Snatched by some collector who would rarely don such finery on her shoulders.  In fact, I'm avoiding the Expo all together because of this capelet.
Why?!?!?!  Why couldn't I purchase you months ago before I had major bills to pay?  Why, Vintage Expo, must you be held moments before we have to pay taxes, car insurance payments, and rent?  WHY?!?!?!?!!!
So, yes, I am not going to the Expo because it would make me too sad to see it.  The capelet I obsessed over so completely I couldn't even focus on my work.  The capelet I spent days envisioning in my future, feeling it on my shoulders as I performed, as I lived.
Goodbye, dear feather capelet.  I loved you so completely despite never knowing how soft you felt to my touch.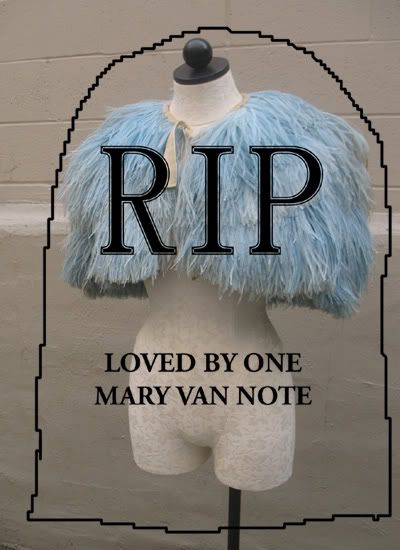 EDIT: OH MY GOD!!!!!  I'm buying the capelet tomorrow!  I can't believe it!  Thanks to Nicole for getting it placed on hold for me AND thanks to an AMAZING fan who donated money so I could buy it.  I am just overcome with joy!  THANK YOU!!!!!!!!